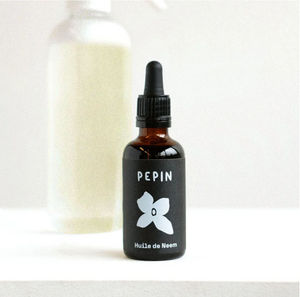 Organic virgin neem oil, cold pressed. Natural insecticide and fungicide in a glass dropper bottle.
Neem oil is a natural insecticide and fungicide effective against a large number of insects and mites, including thrips, fungus gnats, aphids, caterpillars, spider mites, mealybugs..., by disrupting hormones and the reproductive cycle of insects.

Organic and virgin, its cold pressing preserves all the vitamins and proteins that act and protect plants against parasites.
Warm and then mix (1:100) with water and spray generously. 
20 drops per 100ml of water in a spray bottle.
Bottle measures: 11.5cm height x 3.5cm diameter 
Made in Brittany, France.